Welcome to the press kit for Joel Comm!
Twitter has become the hottest social media site in the world. But is there more to it than answering the question "what are you doing?" in 140 characters or less?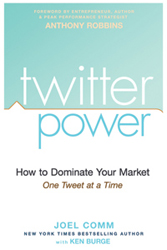 The answer is YES! Joel Comm is the #1 Twitter expert, and the New York Times Best-Selling author of Twitter Power: How to Dominate Your Market One Tweet at a Time.
Many businesses both small and large are discovering the power of Twitter to reach their prospects and customers. Yet, many people aren't sure how to leverage Twitter's power for their business.
In Twitter Power, Internet marketing and Web innovation expert Joel Comm shows businesses and marketers how to integrate Twitter into their existing marketing strategies to build a loyal following among Twitter members, expand awareness for their product or service, and even handle negative publicity due to angry or disappointed consumers.
Visit Joel Comm's public website at: www.TwitterPower.com